Balcombe Estate Sawmill is a renowned supplier of landscaping materials to residential and commercial clients across Sussex and beyond. With 40 years' experience of working with timber in all its forms, our sawmill equipment produces a large variety of sawn timber materials for pergolas and gazebos, bridges, retaining walls, path edging and much more.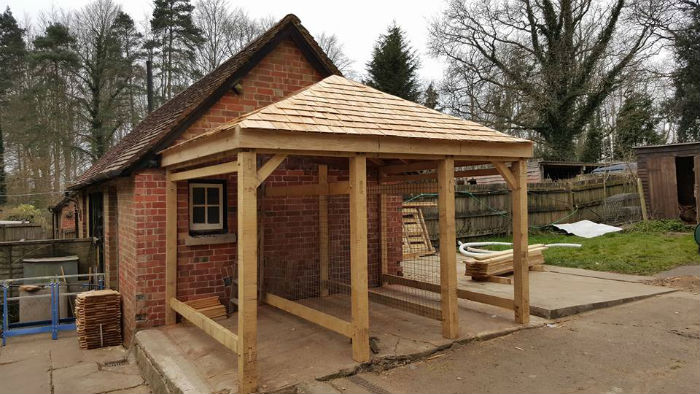 Garden and outdoor projects
Whether you are looking to construct a decorative pergola, build a play area for the kids or introduce raised beds to the vegetable garden, timber is easily worked and blends seamlessly into the natural surroundings. At Balcombe Estate Sawmills, we can supply the most suitable timber landscaping materials for any outdoor or garden project you are considering, including the following examples:
Raised beds and outdoor paths can be easily constructed with untreated and locally sourced materials. Balcombe Estate Sawmill also offers a wide range of sleepers – from treated softwood sleepers to railway sleepers and prime-grade sleepers – to help you achieve defined and solid planting areas, or to create natural looking retaining structures, walling or steps.
We have a range of gazebo and pergola timbers available planed and treated, with post caps and finials to create robust and aesthetically pleasing garden additions. We can also supply timber materials for garden decking and sun traps.
Our sturdy, machine rounded retaining wall timbers can be confidently used as retaining walls in public or private landscaping designs, while play grade timber rounds are the perfect safe solution for playground construction projects. Log rolls are available for edging schemes in gardens or other open spaces.
Our woodchips are a great way to prevent weeds growing in your newly planted beds and also put a stop to that troublesome muddy gateway!
Chose from our selection of wide boards and planks for the design and construction of garden tables, benches and other garden furniture and structures.
Balcombe Estate Sawmill also produces a wide range of fencing supplies and materials, made from oak, sweet chestnut or softwood. This includes oak gate posts, fencing panels and posts, both treated and untreated. All timber is cut to your requirements and in a choice of square sawn, single, two way or four way weathered finishes.
Landscaping materials West Sussex
The Balcombe Estate comprises 3,500 acres of stunning countryside near Haywards Heath, West Sussex and is situated among semi-natural ancient woodland. Immensely proud of our history and heritage, we have always maintained the traditional forestry management values of the Estate while building an excellent reputation for local sustainability.
Key to our all our activities is the maintenance and preservation of the beautiful countryside, woodlands and rural properties that are all around us. It is in this context that we are developing and pursuing our goals for a vibrant and progressive business. Balcombe Estate Sawmill offers a wide range of home grown woodland and timber products and landscaping materials West Sussex for all types of construction and refurbishment projects.

Contact Us
For any enquiries about sourcing landscaping materials, timber supplies or woodland products from the Balcombe Estate in West Sussex, please don't hesitate to get in touch. We are always more than happy to give expert advice over the phone 01444 811 446 or via email sawmill@balcombeestate.co.uk. Alternatively, you can complete the form on the right hand side of this page for a free quotation.