Located in the heart of the Sussex countryside, the Balcombe Estate Sawmill has built up a strong reputation for sawing and supplying a broad range of timber products including larch timbers and waney edge cladding. We grow both softwoods and hardwoods in our own 485 hectare woodlands. Our homegrown larch can be processed to your specifications and requirements in our sawmill.
Larch Timbers Sussex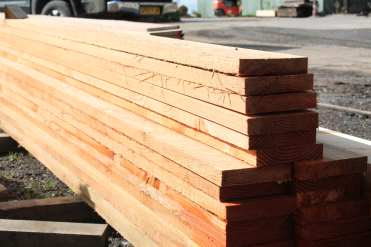 Whether it's European (Larix decidua or Larix europaea), Siberian (Larix sibirica) or Japanese Larch (Larix kaempferi), this tough type of hard pinewood is a fantastic surface finish for cladding and flooring.
It is used extensively as construction timber and for exterior joinery including fencing and decking.
Larch, along with Douglas Fir, seems to be growing in popularity, being also specified increasingly by architects and furniture designers.
The wood itself is a rich red colour when fresh sawn, drying to an attractive reddish brown. It has a contrasting band of narrow white sap and a sharp grain definition, which creates lovely figure and grain patterns and a striking pine-like appearance.
Larch is a wholly sustainable wood with many supply routes from managed forests. At the Balcombe Estate, we can harvest and saw both Larch and Douglas Fir from our own woodlands, as well as many other locally grown timbers.
Whether you are looking for larch beams or sleepers, waney edge cladding boards, featheredge boarding or simply some 4" x 2", the expert team at the Balcombe will be happy to give advice and a quotation for your bespoke larch order. Call us today on 01444 811 446.
Waney Edge Cladding
Timber cladding is typically used on the outside of buildings, for timber frame extensions, garages, car ports, farm buildings and stables. Compared to man-made alternatives, timber cladding is a more environmentally friendly option, both in terms of production and long-term use.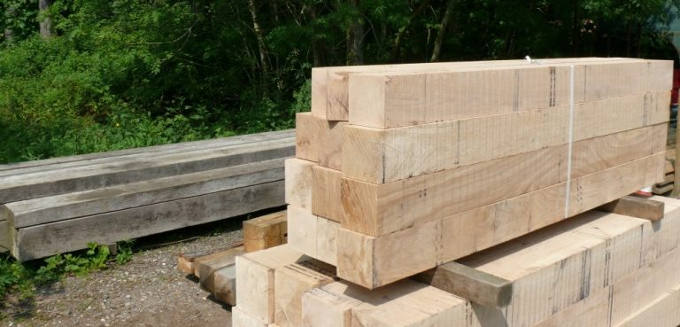 While square edge cladding remains ever popular, waney edge cladding is a traditional style of cladding created by overlapping boards. Here, the timber is cut with one straight edge and one waney edge that includes the bark and sap wood. This style of cladding is particularly suitable for listed building projects and barn conversions.
Larch Waney Edge Cladding Sawn To Order
All our larch cladding is cut fresh from the round log, meaning that the timber initially has a high moisture content. Fresh sawn larch is especially suitable for cladding as well as decking and heavy structural work. Air dried or kiln dried larch is best for flooring, joinery and furniture work. Air dried external cladding also looks fantastic with a machine profile since the grain is nice and fine.
Waney edge boards will vary in width because of the natural variation in the diameter of each log. While it is impossible to guarantee exact widths, we will of course try our best to supply boards as near to parallel as possible.
Our customers tend to specify 20mm thickness and widths of 150-200mm. Wider boards can be cut but there is a risk of cupping, which can make storage and installation more challenging.
Calculating your coverage with waney edge boards can be tricky. When ordering, we recommend that customers specify linear as well as square meterage requirements.
Balcombe Estate Sawmill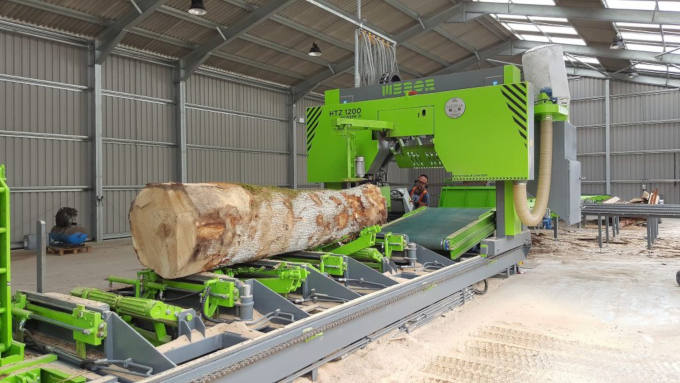 We are able to produce a variety of finished timber products in our sawmill. Around a third of the timber sawn here is sourced from our own woodlands here in Sussex while the rest is sourced from other sustainably managed woodlands in Britain.
A committed family business, we've been actively managing the ancient semi natural woodlands and plantation woodlands at the Balcombe Estate for over 60 years. We have a Forestry Commission approved and FSC certified woodland management plan in place and are proud of the several prestigious silviculture awarded the Balcombe Estate Sawmill and woodlands.
Order today

For all your Larch Timber and Larch Waney Edge Cladding requirements, please contact the Balcombe Estate Sawmill for professional guidance and to place your order. You can use our Contact Us page to email your enquiry or order details, call us direct on 01444 811 446 or pop into Balcombe Sawmill near Haywards Heath, West Sussex.