Balcombe Estate Sawmill is an established and well-known local supplier of logs in Sussex. Our logs are cut from hardwood cordwood and and maybe a mix of ash, oak , silver birch, alder or beech, having been seasoned for a minimum of one year. If you're interested in buying logs from us, please feel free to contact us.
Our logs are not kiln dried as we prefer not to waste energy drying wood. If you follow our guidelines below you can keep your carbon cost low!
WE HIGHLY RECOMMEND THAT CUSTOMERS PURCHASE THEIR LOGS IN ADVANCE OF THE WINTER SEASON TO ENSURE THEY HAVE NATURALLY DRIED TO A SUITABLE MOISTURE CONTENT IN ORDER TO COMPLY WITH GOVERNMENT GUIDELINES.
PLEASE BE AWARE WE ARE NOT SELLING OUR LOGS AS 'READY TO BURN'
Please see below for your choice of buying options for logs. Our logs can be delivered to you in the following approximate quantities: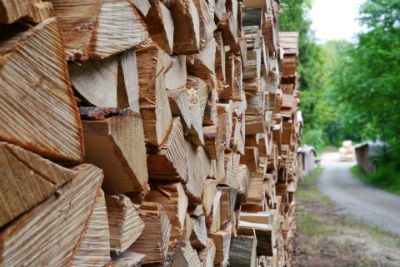 Large Net Sack £7
Loose Boot Loads (approximately ½ cubic metre cage) £50
Half Truck Pick Up Load (approx. 0.6 cubic metres) £70
Full Truck Pick Up Load (approx 1.2 cubic metres) £100
Transit Tipper (approx. 2.6 cubic meters) £225
We offer free local delivery to Balcombe and Ardingly. If you have specific needs or quantities that you would like to collect, we are always happy to accommodate bespoke orders – all you have to do is let us know.
The logs that we supply are cut to approximately 10" as a standard size.
To ensure that you get the most out of your logs we recommend that you purchase them 1 year in advance or during the spring or summer. You should also store them slightly off the ground – an old pallet will do – and cover the wood to protect the logs from rain seeping in and dampening them. We can also supply the materials to build a log store, if you would prefer.

If you're looking for hardwood logs, West Sussex has the perfect supplier in Balcombe Estate Sawmill. We are happy to provide you with all your firewood and log needs – just get in touch by calling 01444 811 446 or by emailing us at sawmill@balcombeestate.co.uk.
FAQs
What type of firewood do you sell?
We offer quality hardwood logs cut from cordwood, typically a mixture of ash, oak, silver birch, alder or beech. All our logs have been seasoned for at least 1 year.
Are your logs suitable for my woodburning stove?
Yes, all the firewood we sell is suitable for open log fires, wood burners, multifuel stoves and firepits. Our logs are cut to 10" as a standard size but custom sizes are available on request.
Which is better – softwood or hardwood logs?
As a general rule, hardwood is much denser than softwood, meaning it burns hotter and for longer. A hardwood log (typically oak, ash, beech) will be heavier and produce more energy than a softwood log, so you need less to produce the same heat output and you can refuel at longer intervals. Softwood logs (typically pine, larch or fir) are easier to light and are best used for kindling.
Why do logs have to be seasoned?
Freshly cut logs have a high moisture content (>50%). At the Balcombe Estate, we cut our cordwood at least 1 year in advance to reduce the moisture content down to around 30%. That way, you will get a higher heat and more efficient heat output. To check if a log is seasoned, knock two logs together and listen for a 'clack' sound; unseasoned logs will just give off a dull thud.
What is the best way to store my logs?
We recommend that you buy your logs a year before you need them, ideally in spring or summer. Stack them off the ground (on a pallet or similar) in a ventilated area and protected from the elements. Better still, get a log store or build your own – we can provide all the materials.
How do I place an order?
You can get a quote here or email your enquiry to sawmill@balcombeestate.co.uk. Orders can also be placed by phone. Contact us on 01444 811446 and we will be pleased to help. We offer free local delivery to Balcombe and Ardingly, and a collection-only service for all other destinations.
What are your order quantities?
Our logs are delivered 'loose' in half truck pick up loads (approx. 0.6 cubic metres) or full truck pick up loads (approx. 1.2 cubic metres). If you prefer to collect, we also supply logs in large net sacks and in loose boot loads (approximately 0.5 cubic metre cage). Should you have a need for particular quantities, please get in touch – we are always happy to accommodate.
What are your delivery options?
We will deliver your 'loose load' order free in the local area of Balcombe and Ardingly. Alternatively, you are welcome to come and collect loose boot loads or large net sacks of logs in your own vehicle.