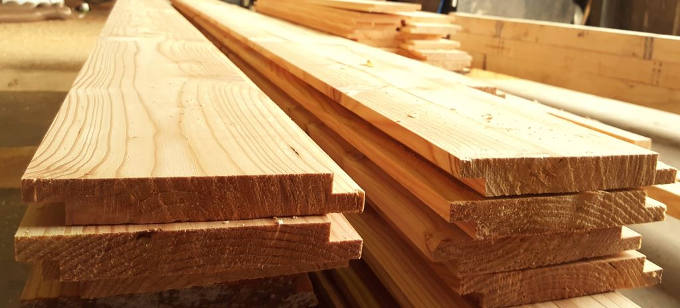 Visit the Balcombe Estate Sawmill in Sussex for a variety of finished timber products sawn and processed in-house to your specifications and requirements. Whether it's structural Douglas Fir Beams, carcassing or cladding, we can help. Please feel free to call us, call in or drop us an email for free advice and a quote.
Why use Douglas Fir?
Readily available in the UK, Douglas Fir is a quality softwood and one of the best construction timbers you can find. It can be used in place of oak for many structural framing jobs and has a number of advantages:
• A lower moisture content means accelerated seasoning compared to hardwoods.
• Pink/orange when freshly cut, mellowing to a 'burnt orange' colour, the timber can be lightened with a wash, oil or wax based lime finish.
• Douglas Fir is comparatively lightweight but retains good strength.
• A straight grained timber which is more stable and predictable to work with than oak, Douglas Fir is a great material for cutting sharp edges, clean lines and smooth surfaces.
• Douglas Fir works well with steelwork to produce a spacious, airy and contemporary look, in contrast to the aesthetic achieved by using heavy oak tie beams.
• Douglas Fir has remained consistently priced over the years, and is cheaper than oak.
Douglas Fir Beams Sussex
The Balcombe Estate Sawmill has built up a strong reputation for sawing and supplying a wide range of timber products including Douglas Fir Beams. We source our Douglas Fir direct from our own woodlands or from sustainably managed woodlands across Sussex.
The Balcombe Estate Sawmill and woodlands in the heart of the Mid Sussex countryside comprises semi natural and plantation woodlands. Our home grown softwoods and hardwoods have been actively and sustainably managed for over 60 years. Our woodland management plan is certified by the Forest Stewardship Council and is Forestry Commission approved.
Order today

For all your requirements for Douglas Fir Beams and many other timber products, please get in touch with the Balcombe Estate Sawmill for our professional attention and to place your order. You can call us direct on 01444 811 446 or visit us the Balcombe Sawmill near Haywards Heath, West Sussex.