The Balcombe Estate Sawmill produces a selection of green oak timber bollards for a broad range of applications, and in a style that complements both rural and urban settings. We are situated in 3,500 acres of beautiful Sussex countryside among ancient semi-natural woodland near Haywards Heath, West Sussex, and have an enviable 40-year track record of sawing and supplying green oak for all kinds of construction and refurbishment work.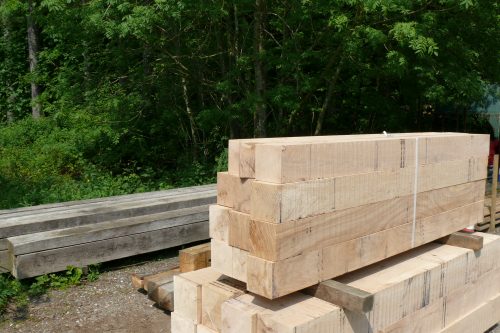 Oak bollards are a naturally attractive yet very durable solution for a number of situations.
They can be used to:
Provide perimeter protection for green spaces including grass verges and lawns, private gardens and drives, communal parks, woodland and nature conservation areas
Enable traffic protection and separation of access for motor vehicles and pedestrians, and to segregate cycle paths
Delineate parking facilities for public and community spaces, heritage and tourism locations, leisure and hospitality premises and many types of commercial sites
At Balcombe Estate Sawmills, we have many years' experience of working with timber in all its forms. Our sawmill equipment allows us to produce a wide variety of finished products.
We can supply oak bollards that are sawn to order to meet your exact specifications. While our standard size bollard is 1.2 metres x 150 mm x 150mm, we are very happy to comply with your individual requirements to supply totally bespoke bollards for your needs.
Standard oak bollards are available with a choice of flat top/square top or four way weathered/pyramid top. Depending on your specific design requirements, we are also able to supply chamfered, bevelled and domed oak bollards. Metal caps can also be fitted.
Choose green oak bollards from Balcombe Estate Sawmills for their quality and timeless elegance, safe in the knowledge that the bollards will blend in with their natural environment, and age gracefully over time to achieve a silvery grey.
For further information on any other sawmill product, and for friendly professional guidance from our expert craftsmen, please feel free to get in touch. Call us, drop us an email or simply pop into our Sussex offices for a visit, for free advice and a competitive, no obligation quote.

For all your Oak Bollard requirements, please contact the Balcombe Estate Sawmill for professional guidance and to place your order. Visit our Contact Us page for any enquiries or provide your order details. Alternatively, call us direct on 01444 811 446 or pop into Balcombe Sawmill near Haywards Heath, West Sussex.