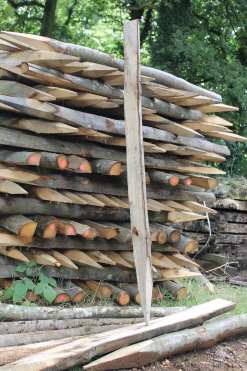 As an established high quaity timber supplier, we offer sawn timber fencing materials cut to your requirements from oak, sweet chestnut or softwood. Both treated and untreated wood is available, depending on your needs. You can count on Balcombe Sawmill to provide you with all the fencing materials you require.
Fencing Materials

Whether you are looking for posts, stakes, railway sleepers or any other kind of fencing supplies, we can help. With many years of experience in supplying fencing materials to clients across Sussex and beyond, our team has the expertise to provide you with anything you need.
As our fencing posts are cut to order we can match your existing fence and offer a bespoke mortising service for post and cleft rail fencing. The wood is harvested from our managed woodland so we can guarantee a very high level of quality.
Just let us know whether you are looking for square sawn, single, two way or four way weathered, and choose the finish that's right for you.

Softwood Sleepers
Our treated softwood sleepers come as a standard size of 2.4m x 200mm x 100mm. Versatile and stylish, our sleepers are a very popular option for all types of garden project.
We are a leading Sussex timber supplier with a range of timber fencing materials always available. We also stock railway sleepers, oak character grade sleepers or, for the more discerning customer, we can saw prime-grade sleepers to your precise specification.
Our oak gate posts come in a variety of sizes and in Prime, Character and Farm grades to suit your needs and budget. Get in contact with us today to discuss the kind of post that is most suitable for your outdoor project.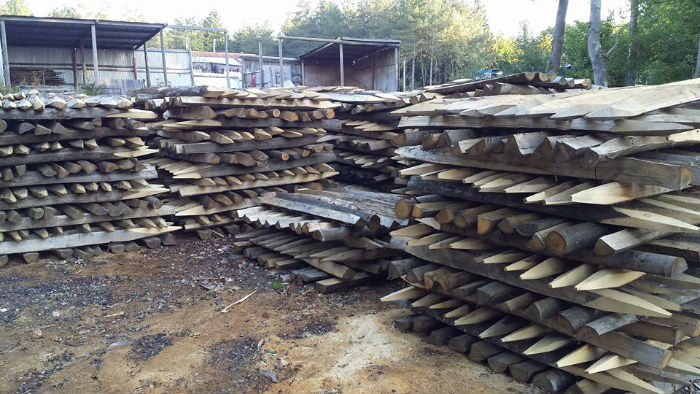 Fencing Stakes
All our chestnut stakes are grown and cleft on the Estate and come in standard 5'6" and 6' (extra-long) sizes. Sweet chestnut is a robust and naturally tough wood that has been popular as a fencing material for hundreds of years. With an attractive rustic appearance, it's an ideal choice of fencing material for stakes, being highly durable and very environmentally friendly too.
Whilst we do not stock gates ourselves, we are happy to source them for you from our local manufacturer to save you the time of shopping around. This can be a highly convenient option if you're looking to get everything ordered at the same time.

If you would like some expert assistance or guidance on choosing fencing materials, sleepers or stakes, we are more than happy to help. Simply give us a call on 01444 811 446, fill out our form on our contact page or pop in to see us at Balcombe Sawmill near Haywards Heath, West Sussex.