Situated in the heart of Sussex among 3,500 acres of picturesque countryside, the Balcombe Estate Sawmill has an enviable reputation for sawing and supplying a wide range of timber products and oak beams, built up over many decades.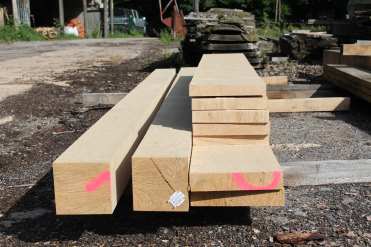 Balcombe Estate Sawmill
Our ancient semi natural woodlands and plantation woodlands have been actively managed by the Greenwood family in Sussex for more than 60 years. The Balcombe Estate Sawmill and woodlands have won several prestigious silviculture prizes. Our woodland management plan is Forestry commission approved and certified by the Forest Stewardship Council.
Our sawmill allows us to produce a variety of finished timber products. A third of the timber sawn here is sourced directly from our own Sussex woodlands while the remainder is sourced from sustainably managed woodlands in the UK.
English Oak Beams Sussex
As a sawmill, we supply English Oak Beams in a range of sizes and can also saw bespoke home grown English Oak Beams to your exact specifications. We offer in-house contract sawing services for English Oak Beams.
At Balcombe Sawmills, we have been a specialist supplier of green oak beams for restoration work and new builds for many years. Our mill can saw up to 8m in length, able to accommodate trees of up to 1.8 metres in diameter.
If you are looking for a quality Sussex timber supplier with a commitment to delivering high quality sawn timber services that are tailor made for your requirements, we would be delighted to discuss your project.
Place an order today

At Balcombe Estate Sawmill, we can advise on English Oak Beams and any materials to suit your needs. To place an order, simply contact us with the dimensions of your timber requirements for English Oak Beams and we will get back to you with a quotation as soon as we can.
Alternatively, call us on 01444 811 446 or feel free to pop into Balcombe Sawmill near Haywards Heath, West Sussex, where our friendly team will be happy to provide professional guidance.
What's more, should you need a builder or timber framer, we can put you in touch with skilled Sussex craftsmen and the right tradespeople to help with your oak timber project.
For the best sawn timber and English Oak Beams Sussex has to offer, get in touch today.