Open for Christmas tree & log sales from Saturday 26th November 10am – 4pm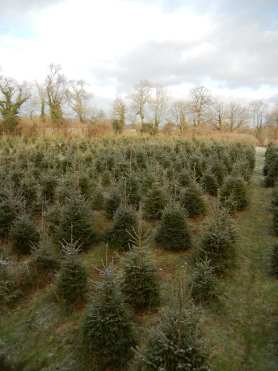 All of our Christmas trees are home grown and freshly cut on our West Sussex estate.
We are happy to supply trees from 4'-40' (and maybe even larger).
Choose from Nordmann Fir, Frazer Fir, Serbian spruce, or the great smelling traditional Norway spruce.
Trees can be netted and carried to the car. Stands and Holly wreaths are also available (whilst stocks last).
We accept credit and debit cards as well as cash payment.

We are delighted to have supplied one of our Christmas Trees to The Tate Britain. Check out the "upside-down Christmas Tree" on our blog.
Whilst picking up your tree why not collect some logs & kindling wood as well?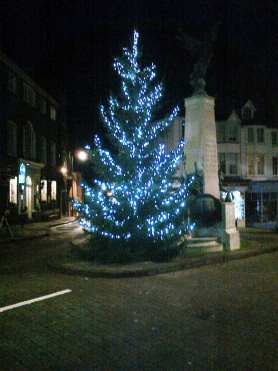 Freshly cut trees retain their needles better than those that have been cut, stacked, transported, warehoused and then distributed to other suppliers, so cut out the middle men and buy your Christmas tree direct from the grower.
To maintain freshness we recommend cutting off the bottom ½ inch of the stem prior to putting it in a stand that holds water. Remember to keep your tree watered throughout the festive period.
Try to avoid siting your tree next to a radiator or other heat source as this will dry it out very quickly.
2016 Yard Price List
Yard price is inclusive of VAT.
SIZE


(Feet)
5
6
7
8
9
10

NORWAY

£30
£35
£40
£45
£55
£65

FRAZER

£35
£40
£45
£55
£65
£75

NORDMANN

£50
£55
£60
£70
£80
POA
Christmas trees now available from our yard 7 days 9 am to 4pm until 23rd December.

2016 Large Tree price List
Large trees are supplied tied for installation. Haulage can be arranged with hiab crane lorry if required.
Large tree prices are subject to VAT.
Phone: 01444 811446 / 07887 868248
Fax: 01444 811446
sawmill@balcombeestate.co.uk
SIZE

(Feet)
10 – 11ft
12 – 13ft
14 – 17ft
18 – 20ft
21 – 23ft
24 – 29ft
30 – 35ft

Price per foot


£7.50
£8.00
£9.00
£12.00
£14.00 (very limited availability)
£17.00 (very limited availability)
£18.00