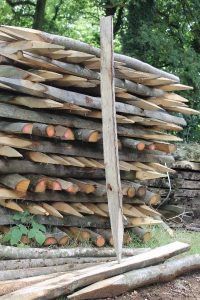 Chestnut stakes are a product of coppicing chestnut, one of the great traditional woodland management techniques practised at the Balcombe Estate for over 60 years.
Sweet Chestnut is a traditional material that has been used for hundreds of years. Its naturally tough and long lasting qualities means that no chemical treatment is required. If coppiced sympathetically, chestnut is one of the most environmentally friendly and durable chestnut fencing materials available.
Chestnut Coppicing
Our chestnut stakes are one of many products of this forestry management system. All of our stakes are grown and cleft right here on the Estate in the following sizes;
5'6" (1.68m) standard pointed chestnut stake
6' (1.83m) extra-long size chestnut stake
Other sizes are available but will need to be cut to order when chestnut coppice cutting takes place (usually October to March)

The Estate's chestnut woodlands are coppiced on a 15 year rotation and regenerate naturally from the cut stumps that are left behind. Our traditional coppice management is based on continuous cover forestry techniques to provide a diverse habitat for flora and fauna, with a range of age classes and growth stages within the coppiced chestnut woodlands.
Woodland Products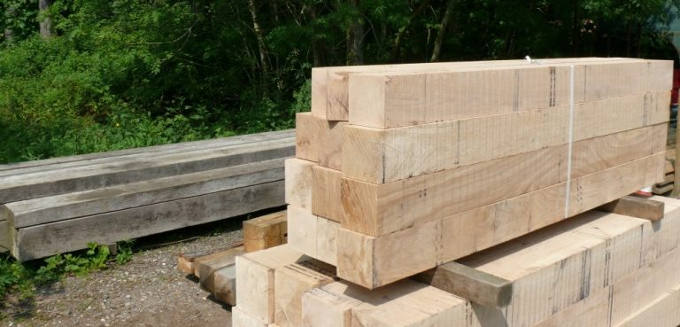 Any woodland produce harvested at the Balcombe Estate is processed in our on-site sawmill and used for a variety of applications including:
Feel free to visit us in the picturesque countryside of the Sussex High Weald AONB, near the small village of Balcombe, West Sussex.

If you have enquiries about sourcing landscaping materials, timber supplies or woodland products, please don't hesitate to get in touch. Our friendly team is always available to give expert advice, simply give us a call on 01444 811 446 or send us an email via sawmill@balcombeestate.co.uk.
Our Woodlands
1,250 acres of woodland at the Balcombe Estate comprise both Ancient Semi Natural (ASNW) Woodland, Plantations on Ancient Woodland Sites and plantation woodlands. Around half consists of broadleaved woodland.
The Balcombe Estate has a Forestry Commission approved management plan and is in the process of Forest Stewardship Council certification.